Description
Natural toothpaste with Activated Charcoal, for strong white teeth.
Take care of and whiten your teeth with a natural toothpaste with charcoal, WITHOUT fluoride or other chemical products, with 100% natural ingredients, directly from nature, with five active substances. Special for clean white teeth and with a touch of freshness thanks to the essential oil of peppermint.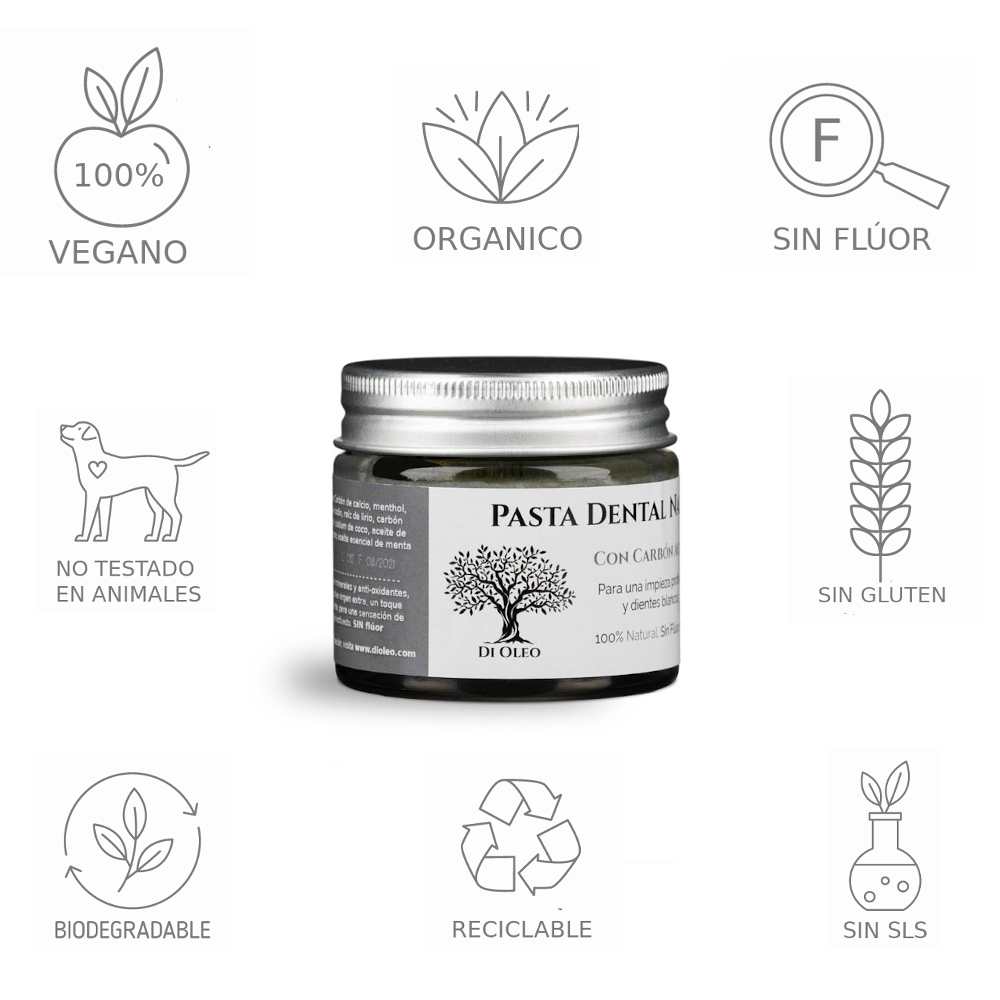 Ingredients: Calcium carbonate, xylitol, extra virgin olive oil, coconut soap, menthol, sodium bicarbonate, orris root, activated charcoal, peppermint essential oil
INCI: Calciumcarbonat, Olea Europaea fruit oil, Xylitol, Menthol, Iris Florentina root, Charcoal Powder, Sodium Cocoate, Sodium Bicarbonate, Limonene and Linalool (originated from essential oil).
Recommendations for use:
Put some toothpaste on a dry toothbrush, or use the stick to put some toothpaste on the brush. Then wet the brush and clean the teeth.
Our natural toothpaste WITHOUT fluoride is not normally swallowed, but if you swallow a little, it is completely harmless. It only contains natural ingredients that are good for you and the environment.
The Ingredients and their Properties:
Xylitol:
– Prevents plaque
– Kill bacteria
– Improves and restores tooth enamel
– Strengthens teeth
– Stimulates saliva
– Promotes the formation of protein and calcium complexes and therefore a remineralization of the teeth
Extra virgin olive oil:
– Rich in vitamin E
– 100% Vegetable, free of chemical additives or animal additives
– Recovers, nourishes and protects thanks to the natural oil that is rich in minerals and proteins
– Anti-oxidants to eliminate toxins from the body
Menthol:
– Supports mucous membranes
– Feeling of freshness, cooling
– Helps with breathing problems and sore throat
– Helps with gastrointestinal problems, pain and inflammation
– Helps prevent intestinal gas
– Cleanses the lungs
– Very refreshing for the breath
– Soothes the throat and nose
– An anti-inflammatory effect
Calcium carbonate:
– Provides strong bones and teeth
– Deep cleaning against bacterial plaque without damaging tooth enamel
– Light scrub
Activated carbon:
Activated charcoal is the secret ingredient. It is an oxidized version of charcoal and can be used to effectively clean and whiten teeth. Removes external teeth stains without the toxic chemicals used in commercial teeth whitening. This teeth whitening promotes good oral health and can change the pH in your mouth, helping to reduce the things that cause cavities, gum disease, and bad breath.
Before using activated charcoal, you should be aware that this type of charcoal is not the same as your everyday barbecue charcoal. Activated charcoal is specifically designed for medicinal use.
Lily Root:
Naturally helps maintain white teeth
Peppermint essential oil