Description
Natural toothpaste, NO fluoride with only natural ingredients. Vegan and sustainable.
Take care of your teeth with a natural toothpaste WITHOUT fluoride with 100% natural ingredients, directly from nature, with four active substances, and with a fresh touch thanks to the essential oil of peppermint.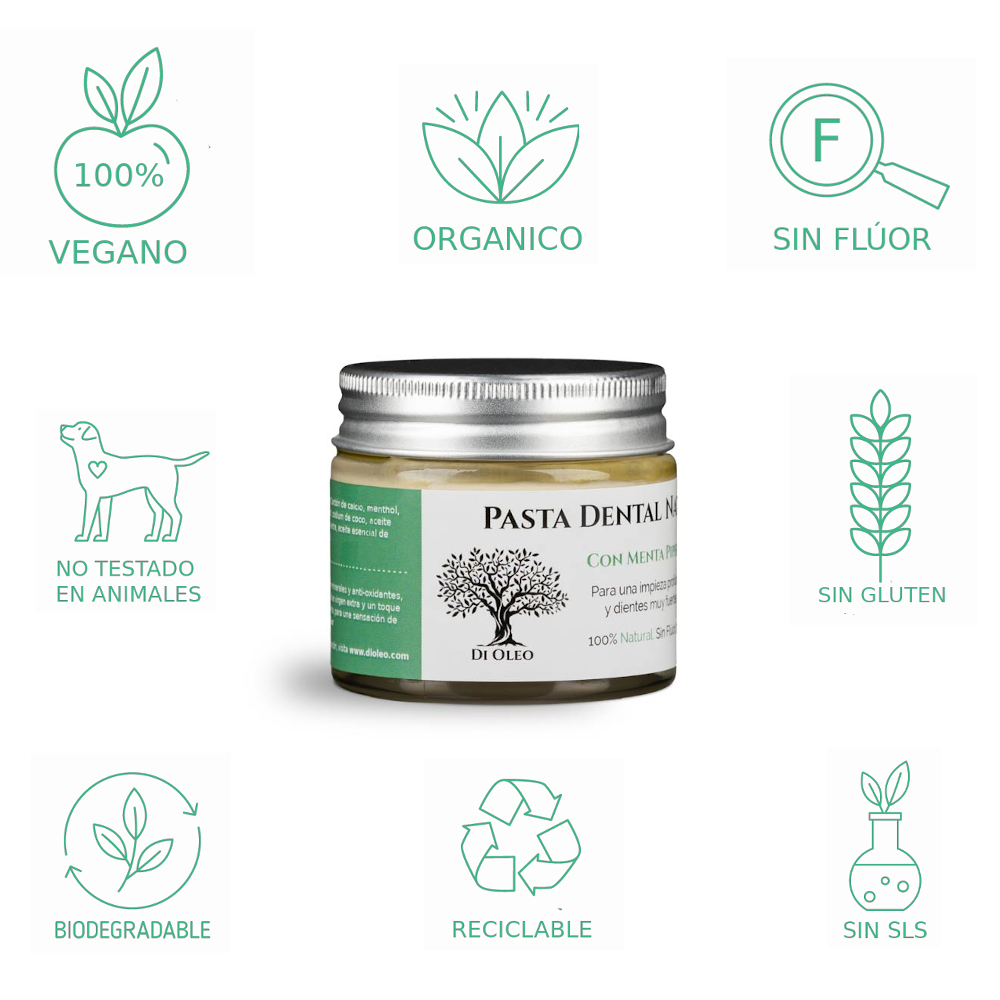 Ingredients: calcium carbonate, extra virgin olive oil, xylitol, calendula extract, orris root, coconut soap, sodium bicarbonate, menthol, peppermint essential oil.
INCI: Calciumcarbonat, Olea Europaea fruit oil, Xylitol, Menthol, Iris Florentina root, Calendula Officinalis Flower Extract, Sodium Cocoate, Sodium Bicarbonate, Stevia extract, Limonene and Linalool (originated from essential oil).
In a glass jar, with a metal lid. Easy to recycle.
Available in 75g and 150g jars.
The Ingredients and their Properties:
Extra virgin olive oil:
– Rich in vitamin E
– 100% Vegetable, free of chemical additives or animal additives
– Recovers, nourishes and protects thanks to the natural oil that is rich in minerals and proteins
– Anti-oxidants to eliminate toxins from the body
Menthol:
– Supports the mucous membranes
– Sensation of freshness, refrigerant
– Helps with respiratory problems and sore throat
– Helps with gastrointestinal problems, pain and inflammation
– Helps prevent intestinal gas
– Cleanses the lungs
– Very refreshing for the breath
– Soothes the throat and nose
– An anti-inflammatory effect
Calcium carbonate:
– Provides strong bones and teeth
– Deep cleaning against bacterial plaque without damaging the tooth enamel
– Light exfoliant
Xylitol:
– Prevents plaque
– Kills bacteria
– Improves and restores tooth enamel
– Strengthens teeth
– Stimulates saliva
– Promotes the formation of protein complexes, calcium and therefore a remineralization of the teeth
Peppermint essential oil